Hi
I need to create a custom layout for Go JS. First, I'll give you some background on what we're trying to achieve.
We have a Silverlight application that makes use of GoXam. One of the diagram types that we support is traditional tree-based diagrams. See: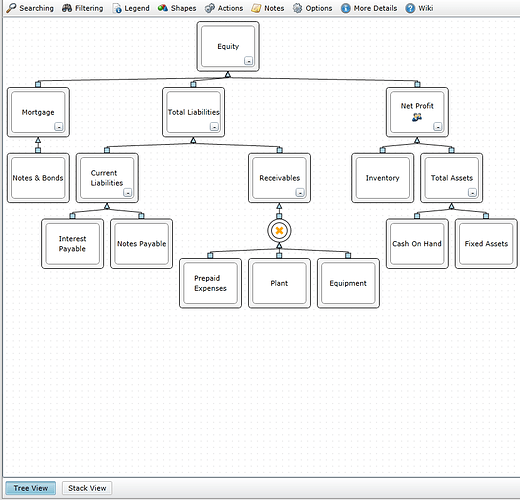 Our user's find that when the tree becomes very large it's difficult for them to navigate the tree or to understand where they are located within a tree.
So we came up with an alternative view which we called a "Stack View". The stack view allows the user to drill down into a particular branch of the tree without being visually distracted by the rest of tree.
The stack view behaves as follows:
Initially, only the root nodes of the tree are visible and are located in the first level of the stack. See:


The user then selects one of the root nodes. This will load that the selected node's children into the second level of the stack.


The user then might select a node in the second level stack which will loads it's children into the third level of the stack.


If the user selects a different node, it will remove all stacks levels below and then load it's child nodes it to the next stack level.


At any time the user can visually see which nodes were selected to generate the current stack.
It was relatively easy to implement in Silverlight using Stack Panels and Data Templates.
I now need to implement the same behaviour in GoJS and I'm guessing that a custom Layout is the way to go. Would it be possible to provide me some guidance or code on how to implement this layout?
Thanks
Justin