Hello.
My ports from the DataFlow diagram can be seen in the image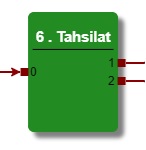 I'm trying to view the names of my ports into that port, like the Tournament Tree sample here


I need to put port names inside ports instead of outside. Is it doable with the DataFlow example? Or can I add a TextBlock into a Shape
Thanks.