The figure below shows 4 boxes in two columns and the boxes between columns are fully connected. When hovering over certain link, the link should be highlighted. I am using a yellow triangle to indicate the location of the cursor.

Unfortunately, the link from Box1 to Box3 has the lowest zOrder and therefore it can never be highlighted, as illustrated below.

I am wondering if the following design idea is possible using GoJS: when a cursor is hovering over multiple links that are overlapped, detect all the covered links at the cursor's location so that a row of colored dots can be displayed for users to click to highlight the corresponding link.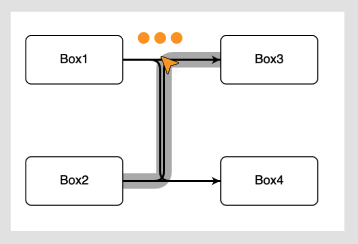 The example here is the over-simplified version of the issue that we are facing. So, the fundamental question is if there is a way for GoJS to find all the links (or even parts) at certain document position? Any idea will be really appreciated!
Below is the HTML + JS code to illustrate the issue mentioned in this post. Thanks for your time!
<!DOCTYPE html>
<html lang="en">
  <head>
    <meta charset="UTF-8" />
    <meta http-equiv="X-UA-Compatible" content="IE=edge" />
    <meta name="viewport" content="width=device-width, initial-scale=1.0" />
    <title>Document</title>
  </head>
  <body>
    <div
      id="myDiagramDiv"
      style="border: solid 1px black; width: 100%; height: 700px"
    ></div>
    <script src="../../release/go-debug.js"></script>
    <script>
      function init() {
        const $ = go.GraphObject.make;
        myDiagram = $(go.Diagram, "myDiagramDiv", {
          layout: $(go.LayeredDigraphLayout, {
            layerSpacing: 80,
          }),
        });

        myDiagram.nodeTemplate = $(
          go.Node,
          "Spot",
          new go.Binding("location", "loc", go.Point.parse),
          $(go.Shape, "RoundedRectangle", {
            fill: "white",
            width: 100,
            height: 50,
            portId: "",
            fromLinkable: true,
            toLinkable: true,
            cursor: "pointer",
          }),
          $(
            go.TextBlock, // the text label
            new go.Binding("text", "key"),
            {
              verticalAlignment: go.Spot.Center,
              textAlign: "center",
            },
          ),
        );

        myDiagram.linkTemplate = $(
          go.Link,
          {
            routing: go.Link.AvoidsNodes,
            corner: 10,
            mouseEnter: function (e, link) {
              link.findObject("HOVER").stroke = "rgba(0, 0, 0, 0.3)";
            },
            mouseLeave: function (e, link) {
              link.findObject("HOVER").stroke = "transparent";
            },
          },
          $(go.Shape, {
            isPanelMain: true,
            name: "HOVER",
            strokeWidth: 16,
            stroke: "transparent",
          }),
          $(go.Shape, { isPanelMain: true, strokeWidth: 2 }),
          $(go.Shape, { toArrow: "Standard", stroke: null }),
        );

        const nodeDataArray = [
          {
            key: "Box1",
          },
          {
            key: "Box2",
          },
          {
            key: "Box3",
          },
          {
            key: "Box4",
          },
        ];

        const linkDataArray = [
          {
            from: "Box1",
            to: "Box3",
          },
          {
            from: "Box1",
            to: "Box4",
          },
          {
            from: "Box2",
            to: "Box3",
          },
          {
            from: "Box2",
            to: "Box4",
          },
        ];

        const model = new go.GraphLinksModel();
        model.nodeDataArray = nodeDataArray;
        model.linkDataArray = linkDataArray;
        myDiagram.model = model;
      }

      window.addEventListener("DOMContentLoaded", init);
    </script>
  </body>
</html>