Hi.
My node object contains a picture inside and a text bellow of it.
When i set resizable:true in node template and renders the resizable corners on my node object. I added a addDiagramListener on partResized event to scale the picture size and text font based on resized area. The problem arises when i resize the node to smaller object, the selected corners crop the text and part of the picture(left picture). After that i need to adjust the corners again to make the text and picture be visible(middle picture). Three pictures demonstrate my issue. The right most picture is normal node. So how can i adjust the selected area to be fit on blue line rounded the node?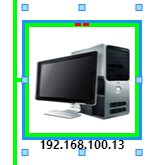 Thanks for any help.