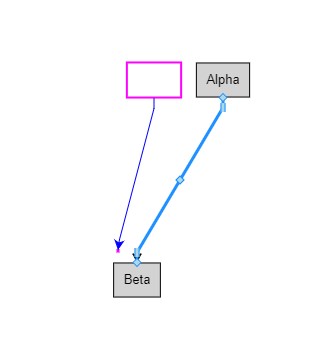 I have faced the fact that the positions of the selection and link don't change dynamically after the node has been moved.
I would expect they should redraw every time using new node coordinates right after the node has been moved to a new position, but they remain in place.
I have attached an example where "Alpha" node gets 1 pixel offset every 100ms to demonstrate the issue.
Please run the example in your browser, select the end of the link "To:" (arrow-shaped) and hold down the left mouse button to activate the selection and see the issue
Could you please provide me the solution for this issue or recommend some kind of workaround?
sample below
<!DOCTYPE html>
<html>
<head>
  <title>Link Shifting Tool</title>
  <!-- Copyright 1998-2020 by Northwoods Software Corporation. -->
  <meta name="description" content="Allow the user to shift the end of a link that is connected with a rectangular node." />
  <meta name="viewport" content="width=device-width, initial-scale=1">

  <script src="https://gojs.net/latest/release/go.js"></script>
  <script src="https://gojs.net/latest/extensions/LinkShiftingTool.js"></script>
  <script src="../assets/js/goSamples.js"></script>  <!-- this is only for the GoJS Samples framework -->
  <script id="code">
    function init() {
      if (window.goSamples) goSamples();  // init for these samples -- you don't need to call this
      var $ = go.GraphObject.make;

      myDiagram =
        $(go.Diagram, "myDiagramDiv",
          {
            "undoManager.isEnabled": true
          });
      myDiagram.toolManager.mouseDownTools.add($(LinkShiftingTool));

      myDiagram.nodeTemplate =
        $(go.Node, "Auto",
          {
            fromSpot: go.Spot.AllSides, toSpot: go.Spot.AllSides,
            fromLinkable: true, toLinkable: true,
            locationSpot: go.Spot.Center
          },
          new go.Binding("location", "location", go.Point.parse).makeTwoWay(go.Point.stringify),
          $(go.Shape, { fill: "lightgray" }),
          $(go.TextBlock, { margin: 10 },
            { fromLinkable: false, toLinkable: false },
            new go.Binding("text", "key"))
        );

      myDiagram.linkTemplate =
        $(go.Link,
          {
            reshapable: true, resegmentable: true,
            relinkableFrom: true, relinkableTo: true,
            adjusting: go.Link.Stretch
          },
          // remember the (potentially) user-modified route
          new go.Binding("points").makeTwoWay(),
          // remember any spots modified by LinkShiftingTool
          new go.Binding("fromSpot", "fromSpot", go.Spot.parse).makeTwoWay(go.Spot.stringify),
          new go.Binding("toSpot", "toSpot", go.Spot.parse).makeTwoWay(go.Spot.stringify),
          $(go.Shape),
          $(go.Shape, { toArrow: "Standard" })
        );

      myDiagram.model = new go.GraphLinksModel([
        { key: "Alpha", location: "0 0" },
        { key: "Beta", location: "0 200" }
      ], [
          { from: "Alpha", to: "Beta" }
        ]);

      myDiagram.addDiagramListener("InitialLayoutCompleted", function(e) {
        // select the Link in order to show its two additional Adornments, for shifting the ends
        myDiagram.links.first().isSelected = true;
      });
	  
      setInterval(() => {
        const node = myDiagram.findNodeForKey("Alpha");
        const location = node.location.x > 100
            ? new go.Point()
            : node.location.copy().offset(1, 0);
        node.location = location;
        }, 100);
    }
  </script>
</head>
<body onload="init()">
<div id="sample">
  <div id="myDiagramDiv" style="border: solid 1px black; width:100%; height:600px"></div>
  <p>
    This sample demonstrates the LinkShiftingTool, which is an extra tool
    that can be installed in the ToolManager to allow users to shift the end
    point of the link to be anywhere along the sides of the port with which it
    remains connected.
  </p>
  <p>
    This only looks good for ports that occupy the whole of a rectangular node.
    If you want to restrict the user's permitted sides, you can adapt the
    <code>LinkShiftingTool.doReshape</code> method to do what you want.
  </p>
</div>
</body>
</html>