I have nodes that look like this: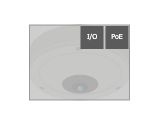 . The dark grey boxes are ports. I currently have code that changes sets the toSpot and fromSpot on the port based on where it is positioned. So, for example, the 'I/O' port has a fromSpot and toSpot of go.Spot.Top so that links will only connect at a single point in the center of that port.
However, for the 'PoE' port, I want the behaviour to be that links can connect to a single point on the top side, or a single point on the right side chosen based on the shortest path. In this situation I currently set the value to go.Spot.TopRightSides, but that is not to a single point. I could set the value to go.Spot.TopRight, but that would force links out of the corner rather than the top or the right.
Is there are way to get the behaviour I want on these corner ports?