Hello,
I am trying to get a cocentric circular layout working, which I based on the double circle example. The placement of each ring is meant to communicate distance from a center node in the raw graph data, so it's important that the radius effectively makes each successive ring appear outside the inner rings, despite the number of nodes in each ring.
I am facing a problem in that radius is being shrunk whenever I have spacing enabled and when an outer ring has fewer nodes than an inner ring. I would like to use spacing because otherwise I would have to adjust radius myself to make sure nodes don't overlap.
I have attached two pictures of my modified doubleCircle.html example. The one without spacing shows the rings in the proper order but the nodes overlap. In the one with spacing set to 0, the blue ring appears inside the green ring when it should appear outside.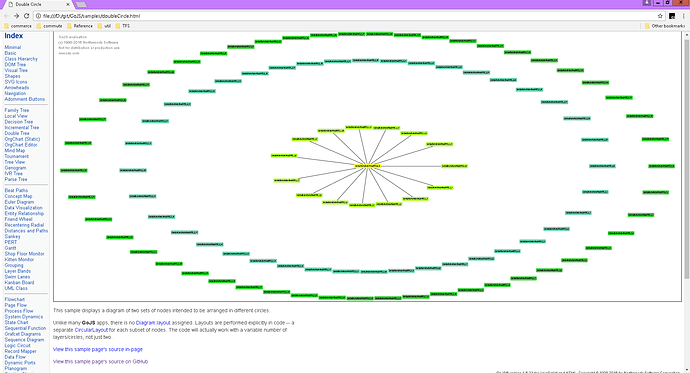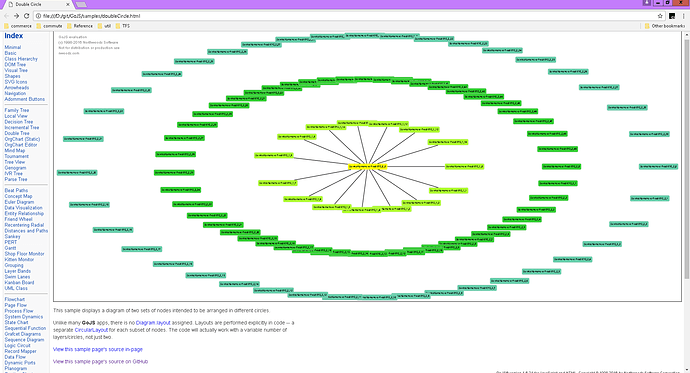 I know from the documentation that actual radius may be larger in order to satisfy that actual spacing is greater than or equal to configured spacing - however, the behavior I am seeing is the opposite where the actual radius is smaller, which I did not see mentioned.
Any ideas on how I can both use spacing and enforce the radius at each ring?
Thanks,
Brandon