I need to be able to allow creating structures like this -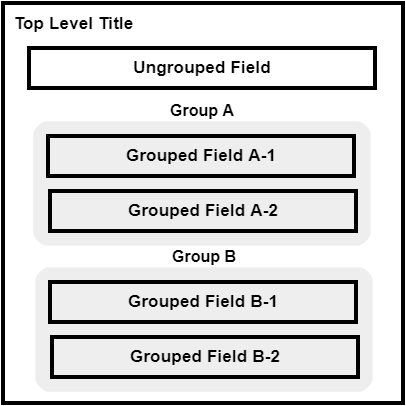 There is a top level structure which can have editable title (other visual features like background, stroke color, etc.). Let's call it container.
This top level structure will have multiple fields inside it. Each field must be linkable to each other and structures outside the top level container structure. But they should not exist outside of the container structure i.e. cannot be dragged out of the container structure.
The fields can be grouped together and the group can have its own bindings like title (other visual features like background, etc.)
The container, fields and field groups should all be selectable on their own and have unique ports.
If a field is dragged and dropped into an existing internal fields group it should become part of it and if it is dragged out into a non grouped section of the container it should become ungrouped again.
---
Previously we did not need the field grouping functionality so a table with fields like Record Mapper example and positioned custom ports on the table rows sufficed for us. Now with the dynamic nature of the field grouping and ungrouping what is the ideal way for handling this -
A panel with table (using nested itemsArray of some sort) or making each field it's own node and the other parts as group categories. Or any other way that I haven't thought of.
The one drawback of using Groups, I found is the need to create multiple separate nodes for this whole structure that always stays together. Especially when dragging and dropping them from a HTML based palette.
Any help is greatly appreciated. Thanks.