Hi, I am trying to implement a custom cursor for our error validation link - i.e. when a link is disabled, 1) the cursor should turn into this new red arrow cursor, 2) this red cross icon should appear at the end of the link connection line.



Do you guys have any suggestions for how we can do this? I have checked the gojs cursors and couldn't find any ways to change the colour.
Additionally, when dragging the connection line there is this default blue colour, I have checked ways for binding and changing the line colour but colour changes were still not applied to when the line is being dragged.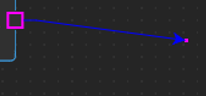 Any suggestions would be greatly appreciated.