Hello,
I have been using React GoJS for a project and need to use the Radial Layout. I mostly followed and modified the gojs-react-basic example in GitHub. I followed the Radial Script for examples. I have copied the RadialLayout.ts into the components folder.
However, when I ran the project, my diagram does not appear and it is completely empty as shown in the screenshot below. All other layouts work so I am not sure why this does not.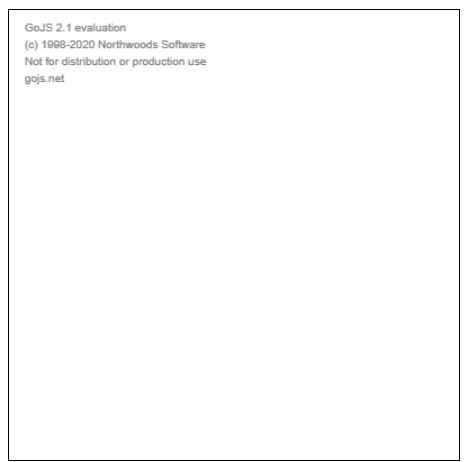 I am not sure why this happens but I suspect it is because I have no root nodes? I have tried to put nodeClicked function into the componentDidMount() with the first nodeDataArray prop item as the node but it does not appear to work. Here is the code I put inside componentDidMount(): nodeClicked(null, this.props.nodeDataArray[0])
I am unable to figure out how to solve these two problems:
How to make Radial Layout appear in my diagram?
How do I make sure that there is already a root node upon loading?
Thank you!
DiagramWrapper.tsx for reference:
import * as go from 'gojs';
import { ReactDiagram } from 'gojs-react';
import * as React from 'react';
import { RadialLayout } from './RadialLayout';

import './Diagram.css';

class CustomRadialLayout extends RadialLayout {
  rotateNode(node: go.Node, angle: number, sweep: number, radius: number) {
    // rotate the nodes and make sure the text is not upside-down
    node.angle = angle;
    const label = node.findObject('TEXTBLOCK');
    if (label !== null) {
      label.angle = ((angle > 90 && angle < 270 || angle < -90) ? 180 : 0);
    }
  }

  commitLayers() {
    // optional: add circles in the background
    // need to remove any old ones first
    const diagram = this.diagram;
    if (diagram === null) return;
    const gridlayer = diagram.findLayer('Grid');
    if (gridlayer === null) return;
    const root = this.root;
    if (root === null) return;
    const circles = new go.Set<go.Part>();
    gridlayer.parts.each(function(circle) {
      if (circle.name === 'CIRCLE') circles.add(circle);
    });
    circles.each(function(circle) {
      diagram.remove(circle);
    });
    // add circles centered at the root
    const $$ = go.GraphObject.make;  // for conciseness in defining templates
    for (let lay = 1; lay <= this.maxLayers; lay++) {
      const radius = lay * this.layerThickness;
      const circle =
        $$(go.Part,
          { name: 'CIRCLE', layerName: 'Grid' },
          { locationSpot: go.Spot.Center, location: root.location },
          $$(go.Shape, 'Circle',
            { width: radius * 2, height: radius * 2 },
            { fill: 'rgba(200,200,200,0.2)', stroke: null }));
      diagram.add(circle);
    }
  }
}
interface DiagramProps {
  nodeDataArray: Array<go.ObjectData>;
  linkDataArray: Array<go.ObjectData>;
  modelData: go.ObjectData;
  skipsDiagramUpdate: boolean;
  onDiagramEvent: (e: go.DiagramEvent) => void;
  onModelChange: (e: go.IncrementalData) => void;
}

function nodeClicked(e: go.InputEvent | null, root: go.GraphObject| null) {
  if (!(root instanceof go.Node)) return;
  const diagram = root.diagram;
  if (diagram === null) return;
  // all other nodes should be visible and use the default category
  diagram.nodes.each(function(n) {
    n.visible = true;
    if (n !== root) n.category = '';
  });
  // make this Node the root
  root.category = 'Root';
  // tell the RadialLayout what the root node should be
  (diagram.layout as RadialLayout).root = root;
  console.log(root);
  diagram.layoutDiagram(true);
}

export class DiagramWrapper extends React.Component<DiagramProps, {}> {
  /**
   * Ref to keep a reference to the Diagram component, which provides access to the GoJS diagram via getDiagram().
   */
  private diagramRef: React.RefObject<ReactDiagram>;

  /** @internal */
  constructor(props: DiagramProps) {
    super(props);
    this.diagramRef = React.createRef();
  }

  /**
   * Get the diagram reference and add any desired diagram listeners.
   * Typically the same function will be used for each listener, with the function using a switch statement to handle the events.
   */
  public componentDidMount() {
    if (!this.diagramRef.current) return;
    const diagram = this.diagramRef.current.getDiagram();
    if (diagram instanceof go.Diagram) {
      diagram.addDiagramListener('ChangedSelection', this.props.onDiagramEvent);
    }
  }

  /**
   * Get the diagram reference and remove listeners that were added during mounting.
   */
  public componentWillUnmount() {
    if (!this.diagramRef.current) return;
    const diagram = this.diagramRef.current.getDiagram();
    if (diagram instanceof go.Diagram) {
      diagram.removeDiagramListener('ChangedSelection', this.props.onDiagramEvent);
    }
  }

  /**
   * Diagram initialization method, which is passed to the ReactDiagram component.
   * This method is responsible for making the diagram and initializing the model, any templates,
   * and maybe doing other initialization tasks like customizing tools.
   * The model's data should not be set here, as the ReactDiagram component handles that.
   */
  private initDiagram(): go.Diagram {
    const $ = go.GraphObject.make;
    // set your license key here before creating the diagram: go.Diagram.licenseKey = "...";
    const diagram =
      $(go.Diagram,
        {
          'undoManager.isEnabled': true,  // must be set to allow for model change listening
          initialAutoScale: go.Diagram.Uniform,
          padding: 10,
          isReadOnly: true,
          layout: $(CustomRadialLayout, { maxLayers: 1 }),
          'animationManager.isEnabled': false,
          model: $(go.GraphLinksModel,
            {
              linkKeyProperty: 'key',  // IMPORTANT! must be defined for merges and data sync when using GraphLinksModel
              // positive keys for nodes
              makeUniqueKeyFunction: (m: go.Model, data: any) => {
                let k = data.key || 1;
                while (m.findNodeDataForKey(k)) k++;
                data.key = k;
                return k;
              },
              // negative keys for links
              makeUniqueLinkKeyFunction: (m: go.GraphLinksModel, data: any) => {
                let k = data.key || -1;
                while (m.findLinkDataForKey(k)) k--;
                data.key = k;
                return k;
              }
            })
        });
    // shows when hovering over a node
  const commonToolTip =
  $<go.Adornment>('ToolTip',
    $(go.Panel, 'Vertical',
      { margin: 3 },
      $(go.TextBlock,  // bound to node data
        { margin: 4, font: 'bold 12pt sans-serif' },
        new go.Binding('text')),
      $(go.TextBlock,  // bound to node data
        new go.Binding('text', 'color', function(c) { return 'Color: ' + c; })),
      $(go.TextBlock,  // bound to Adornment because of call to Binding.ofObject
        new go.Binding('text', '', function(ad) { return 'Connections: ' + ad.adornedPart.linksConnected.count; }).ofObject())
    )  // end Vertical Panel
  );  // end Adornment

    // define a simple Node template
    diagram.nodeTemplate =
      $(go.Node, 'Spot',
      {
        locationSpot: go.Spot.Center,
        locationObjectName: 'SHAPE',  // Node.location is the center of the Shape
        selectionAdorned: false,
        doubleClick: nodeClicked,
        toolTip: commonToolTip
      },  // the Shape will go around the TextBlock
        $(go.Shape, 'Circle',
        {
          name: 'SHAPE',
          fill: 'lightgray',  // default value, but also data-bound
          stroke: 'transparent',
          strokeWidth: 2,
          desiredSize: new go.Size(20, 20),
          portId: ''  // so links will go to the shape, not the whole node
        },
        new go.Binding('fill', 'color')),
      $(go.TextBlock,
        {
          name: 'TEXTBLOCK',
          alignment: go.Spot.Right,
          alignmentFocus: go.Spot.Left
        },
        new go.Binding('text').makeTwoWay())
        );
    // this is the root node, at the center of the circular layers
  diagram.nodeTemplateMap.add('Root',
  $(go.Node, 'Auto',
    {
      locationSpot: go.Spot.Center,
      selectionAdorned: false,
      toolTip: commonToolTip
    },
    $(go.Shape, 'Circle',
      { fill: 'white' }),
    $(go.TextBlock,
      { font: 'bold 12pt sans-serif', margin: 5 },
      new go.Binding('text'))
  ));
    // relinking depends on modelData
    diagram.linkTemplate =
    $(go.Link,
      {
        routing: go.Link.Normal,
        curve: go.Link.Bezier,
        selectionAdorned: false,
        layerName: 'Background'
      },
      $(go.Shape,
        {
          stroke: 'black',  // default value, but is data-bound
          strokeWidth: 1
        },
        new go.Binding('stroke', 'color'))
    );
    return diagram;
  }


  public render() {
    return (
      <>
      <ReactDiagram
        ref={this.diagramRef}
        divClassName='diagram-component'
        initDiagram={this.initDiagram}
        nodeDataArray={this.props.nodeDataArray}
        linkDataArray={this.props.linkDataArray}
        modelData={this.props.modelData}
        onModelChange={this.props.onModelChange}
        skipsDiagramUpdate={this.props.skipsDiagramUpdate}
      />
      </>
    );
  }
}