Hi,
I have a node on the canvas for which I can assign certain configuration. Once I set the configuration for my node, I should be able to display the config in a text box below the node. This text box should be expandable/collapsible.
Please see this image for reference: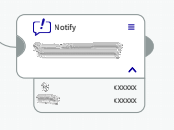 I need to toggle expand/collapse on click of the chevron icon on the node.
Is this possible to do? Could you please provide a sample?