I'm developing twin and identical twin nodes in VueJS based Genogram.
I read a topic in this forum (Mixing orthogonal and normal linking) and tried implementing it. It works perfectly for twin nodes, but not for identical twin nodes.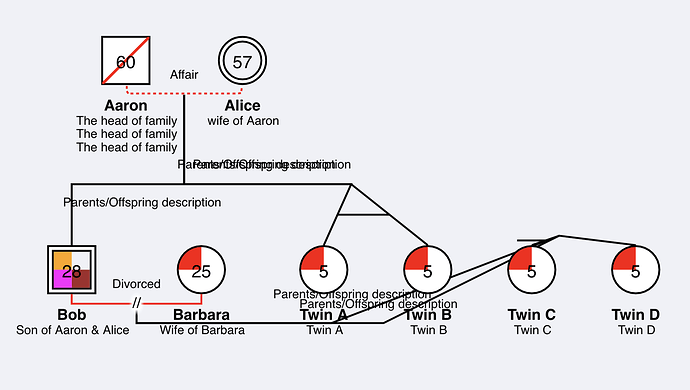 First identical twin is generated correctly, but second identical twin is not
Is there a settings that I should configure to fix the layout problem ?
Here is the identical twin setup code (similar with the one in the forum)
    var T1 = myDiagram.findNodeForKey(identicalTwin[0].key);
    var T2 = myDiagram.findNodeForKey(identicalTwin[1].key);
    var TPL1 = T1.findTreeParentLink();
    var TPL2 = T2.findTreeParentLink();
    var TLN1 = $(go.Node);
    TLN1.labeledLink = TPL1;
    TLN1.segmentIndex = -2;
    TLN1.segmentFraction = .5;
    myDiagram.add(TLN1);
    var TLN2 = $(go.Node);
    TLN2.labeledLink = TPL2;
    TLN2.segmentIndex = -2;
    TLN2.segmentFraction = .5;
    myDiagram.add(TLN2);
    var TL = $(go.Link, {
      isLayoutPositioned: false,
      isTreeLink: false
    }, $(go.Shape, {
      strokeWidth: 2,
      stroke: "black"
    }));
    TL.fromNode = TLN1;
    TL.toNode = TLN2;
    myDiagram.add(TL);