I am creating a Gantt Diagram where I will approach several projects. (Thanks in advance, to Walter for the answer to my last request)
My goal at this point is to create a side panel, where each of the projects is shown, and if the user clicks on one of them, they are redirected in the Grid to the Project, in order to make navigation in the Grid simpler. In order to know each project I have in my Grid, I am looking at the nodes that have the "isGroup" parameter.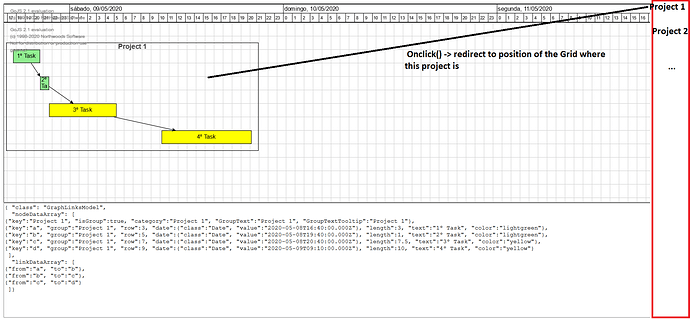 I've been reading your library about node and groups, namely the functions that I can call. I have seen the findNodeForKey, findNodesByExample, but I think that is not the answer to my problem …
My doubts here are:
How do I search for all Nodes that have the isGroup parameter.
How do I show it on my Lateral panel (here I think I will have to create a new div and bind the result of the nodes (isGroup = true).
Redirect the Grid to the position of the Project.
If you already have examples, I am grateful. I have been searching here in the forum, and in Documentation to see if there was something similiar that I could use to accomplish my goal. In fact, I found your example of Overview, but I think it is not the best solution for me.