Hi Walter, hope you are doing well.
In the following app, i implemented a nodes palette on the left, a diagram centered, and a links palette on the right.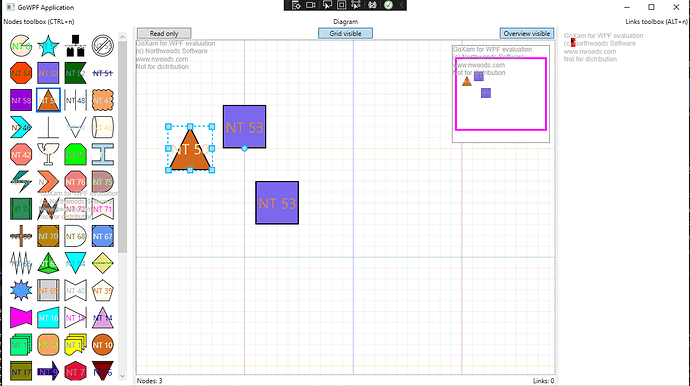 When i select a node from the nodes toolbox, i can create a node with that visual template by using the ClickCreatingTool (DoubleClick=True). - Works pretty well.

I bind the PrototypeDate to the toolbox data.
I also have implemented that with CTRL+1, CTRL+2, … and so on the first node in the toolbox is getting selected of the second, up to the tenth.
I generate ~ 80 node templates for the toolbox, randomly. - Pretty straight forward…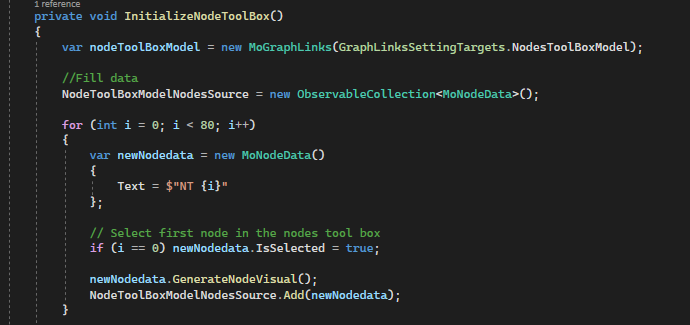 When i hit, CTRL+1, i select the first node in my nodesource collection of the palette.
My propblem currently is, that seems not to be ordered the way i wanted it to have.
I add NT1, then NT2, then NT3 to the collection, but in the go:Palette, NT1 is maybe a template where i need to scroll down find it and so on.
Is there a way, to control the order of the nodes within a go:Palette?
Many thanks meanwhile, Hannes
My educational repository, just in case:
HannesHold/GoWPF: Some educational project to explore the GoWPF application (github.com)