Thank you very much for such a quick response. I registered on the forum with my home e-mail so I hadn't noticed your letter.



I have one more question. I have set ValidUnconnectedLinks to None in my model but it seems that it works only if link has both ends unconnected. But I have some invalid links in database which have one correct end and the other wrong (i.e. no such node in the graph). So the result looks like this (links point to 0,0?)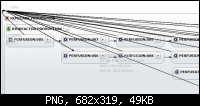 Is there an option to ignore link with only one invalid end?