Hello,
I need to implement a kind of swimlane diagram, however it is more complex than the swimlane example, as the swimlane has connections to other nodes: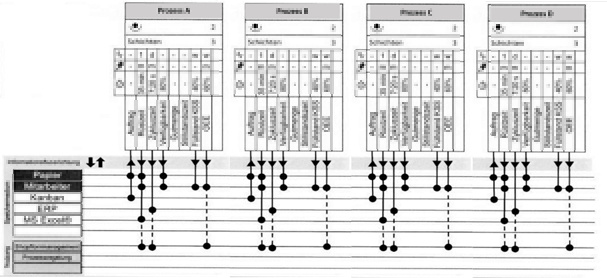 I'll try to summarize which components I would use for it. Would be great if you could tell me if this is the way to go or if there are other, better suited components available.
The upper elements would be normal nodes using a table panel and ports.
The bottom element would be a swimlane consisting of one group with two lanes. The first lane has 6 nodes and the second lane has 3 nodes (using a GridLayout?).
Now I need a horizontal line/link starting at the nodes goint to the right but without a destination node. How would I do this? The end of the line should be at the end of the last upper node… (maybe an invisible node as the target?)
Then I guess I could use Links to Links to connect the upper elements to the swimlanes.
Do you think this would work? Do you see any difficulties trying to create such a diagram with goJS? Any other resources/example I could study?
Best regards,
Dominic