Hello,
I have a question about the UndoManager. I am working with a leaflet map, which can make undo/redo pretty messy because of the conversion between Lat/Lng Coordinates and X/Y coordinates. Mostly, links are not displayed properly and start or end in nothingness, when mixing Leaflet Moving,Leaflet Zooming, Node Dragging and so on. Below is an example, where it got messy, although there are only 2 move transactions like you can see in the undo manager history.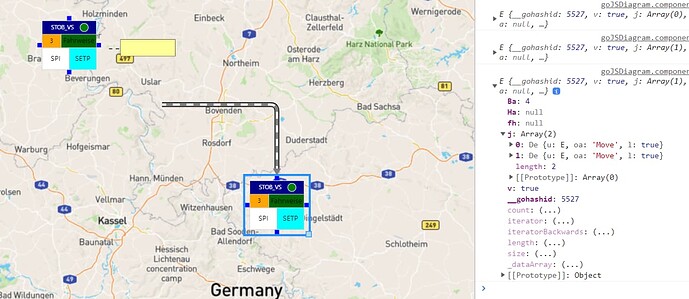 If I manually hit
this.myDiagram.updateAllTargetBindings('location');
this.myDiagram.redraw();
everything is set accordingly again. So, my question is: Is there an event that I can catch, which fires after a redo or undo and that I can connect my diagram update with? Or - since this is probably not a very good / performant solution - is there a different best practise for the combination of UndoManager and GoJS Leaflet Maps?
I could not find any solution in the UndoManager section nor in the Diagram Events
Thanks in regard
Jonas Czeslik