We've been using Northwoods.GoWin via the NuGet package, until recently using version 6.1 for an application using .Net Framework 4.8 and then moving to .Net 5, this all went smoothly without any issues in GoDiagram.
However, when updating from .Net5 to .Net 6, we've started to see the License nag message in the GoView viewport, even though the GoView.LicenseKey is being set to a valid license code.
Even when upgrading to the 6.2 version of Northwoods.GoWin and requesting a new license, we still see the same watermark message: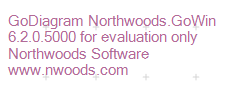 Please can you advise on what we can do to resolve this.
Thanks.