Hi,
I'm continuing doing experiments with Tree/ForceDirected switching layout and I have a question regarding the link connection point on nodes using irregular shapes like a star.
I read the introduction to connections and in my graph with ForceDirectedLayout everything works as expected, since when I move the star node, the connection correctly stay attached to the closest point on the star.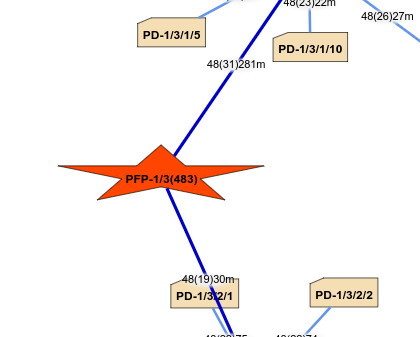 Conversely, when I switch to TreeLayout, the connection starts from the bounding box of the star, regardless of its position when I drag it.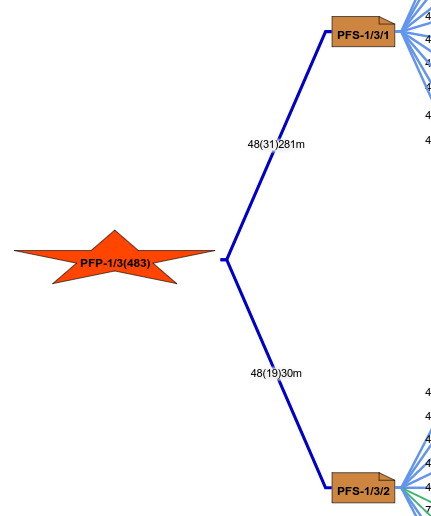 Is this an intended behavior or is there a way to make it work like in ForceDirectedLayout?
This is my linkTemplate:
myDiagram.linkTemplate = $(go.Link,        
    {
        selectable: false,
    },
    $(go.Shape,
        new go.Binding("stroke", "cabletype", cableType2Color),
        new go.Binding("strokeWidth", "cabletype", cableType2Width)
    ),
    $(go.Panel, "Auto",
        $(go.Shape, {
            fill: $(go.Brush, "Radial", {
                0: "rgb(240, 240, 240)",
                0.5: "rgb(240, 240, 240)",
                1: "rgba(240, 240, 240, 0)"
            }),
            stroke: null
        }),
        $(go.TextBlock,
            {
                textAlign: "center",
                font: "13pt helvetica, arial, sans-serif",
                stroke: "black",
                margin: 4
            },
            new go.Binding("text", "", createLinkLabel)
        )
    )
);

Thanks,
Guido