Hi, I am customizing the LinkingTool in order to addLinkData programmatically. I simply implemented the insertLink method of the LinkingTool. However, when I tried to add a link between two nodes, the code worked, but I always got the following error in the chrome console.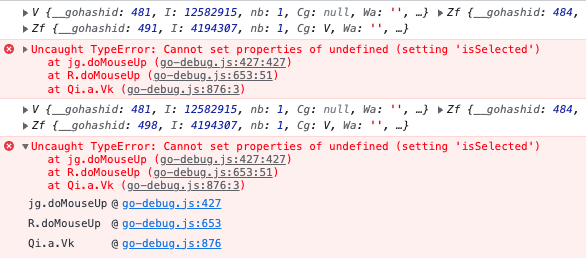 I got the same error even tried to select the newly added link programmatically by
          myDiagram.model.addLinkData(linkData);
		  const newLink = myDiagram.findLinkForData(linkData);
		  newLink.isSelected = true;

Do I have to override the doMouseUp method? Am I doing the correct way? Do you have any sample code that illustrates how to correctly customize the LinkingTool and RelinkingTool?
The complete HTML + JS code is below. Thanks so much for your time!
<!DOCTYPE html>
<html lang="en">
  <head>
    <meta charset="UTF-8" />
    <meta http-equiv="X-UA-Compatible" content="IE=edge" />
    <meta name="viewport" content="width=device-width, initial-scale=1.0" />
    <title>Document</title>
  </head>
  <body>
    <div
      id="myDiagramDiv"
      style="border: solid 1px black; width: 100%; height: 700px"
    ></div>
    <script src="../../release/go-debug.js"></script>
    <script>
      function init() {
        const $ = go.GraphObject.make;

        const myDiagram = $(go.Diagram, "myDiagramDiv", {
          layout: $(go.LayeredDigraphLayout, {
            layeringOption: go.LayeredDigraphLayout.LayerLongestPathSource,
            layerSpacing: 100,
          }),
        });

        myDiagram.nodeTemplate = $(
          go.Node,
          "Spot",
          $(go.Shape, "RoundedRectangle", {
            fill: "white",
            width: 100,
            height: 30,
            portId: "",
            fromLinkable: true,
            toLinkable: true,
          }),
          $(
            go.TextBlock, // the text label
            new go.Binding("text", "key"),
            {
              verticalAlignment: go.Spot.Center,
              textAlign: "center",
            },
          ),
          $(go.Shape, "Rectangle", {
            fill: null,
            stroke: null,
            desiredSize: new go.Size(8, 8),
            alignment: new go.Spot(0, 0.5, 4, 0),
            portId: "Left",
            fromSpot: go.Spot.Left,
            toSpot: go.Spot.Left,
            fromLinkable: false,
            toLinkable: true,
          }),
          $(go.Shape, "Rectangle", {
            fill: null,
            stroke: null,
            desiredSize: new go.Size(8, 8),
            alignment: new go.Spot(1, 0.5, -4, 0),
            portId: "Right",
            fromSpot: go.Spot.Right,
            toSpot: go.Spot.Right,
            fromLinkable: true,
            toLinkable: false,
          }),
        );

        myDiagram.linkTemplate = $(
          go.Link, // the whole link panel
          {
            selectable: true,
          },
          { relinkableFrom: true, relinkableTo: true },
          $(
            go.Shape, // the link shape
            { strokeWidth: 1.5 },
          ),
          $(
            go.Shape, // the arrowhead
            { toArrow: "Standard", stroke: null },
          ),
        );

        const nodeDataArray = [
          {
            key: "Alpha",
          },
          {
            key: "Beta",
          },
          {
            key: "Gemma",
          },
        ];

        const model = new go.GraphLinksModel();
        model.nodeDataArray = nodeDataArray;
        myDiagram.model = model;

        const ltool = myDiagram.toolManager.linkingTool;
        ltool.isForwards = true;

        ltool.insertLink = (fromnode, fromport, tonode, toport) => {
          console.log(fromnode, fromport, tonode, toport);
		  const linkData = {
            from: fromnode.data.key,
            to: tonode.data.key,
            fromPort: "Right",
            toPort: "Left",
          };
          myDiagram.model.addLinkData(linkData);
		  const newLink = myDiagram.findLinkForData(linkData);
		  newLink.isSelected = true;
        };

		const rtool = myDiagram.toolManager.relinkingTool;
		rtool.isForwards = true;

		rtool.reconnectLink = (existinglink, newnode, newport, toend) => {
			console.log(existinglink, newnode, newport, toend);
			myDiagram.model.removeLinkData(existinglink.data);
			let linkData;
			if (toend) 
				linkData = {
					from: existinglink.data.from,
					fromPort: existinglink.data.fromPort,
					to: newnode.data.key,
					toPort: newport.portId
				};
			else
				linkData = {
					from: newnode.data.key,
					fromPort: newport.portId,
					to: existinglink.data.to,
					toPort: existinglink.data.toPort
				};
			myDiagram.model.addLinkData(linkData);
		}
      }

      window.addEventListener("DOMContentLoaded", init);
    </script>
  </body>
</html>