Using the flowchart diagram as a starting point…
…I am wondering if I can format a node to have one shape when it is in the side panel, and then a different shape once it "enters" the main diagram. And I mean right away, not once "ExternalObjectsDropped" happens. As far as I can tell, there is not an event handler for this event.
Probably I am missing one or more aspects of the api functionality, because in the flowchart example, the cursor style (I can't tell where it is being set?) is one way (a "cancel" sign)…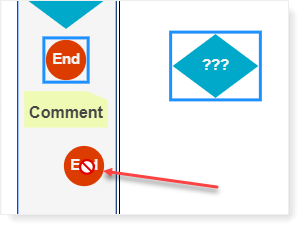 …and then upon "entering" the main panel, the cursor becomes a pointer with a plus sign, and this behavior appears to be unique to this gojs example.