Hello, GoDiagram's engineers!!!
I have a problem:
I have a class inherited from GoIconicNode on the GoView and 2 GoLink derived classes outcoming from the node Center (from the same point) in opposite directions.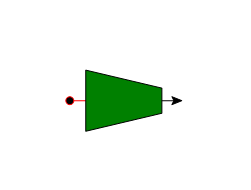 GoLink instances have the following properties:
    Orthogonal = true;
    Style = GoStrokeStyle.RoundedLineWithJumpOvers;

I have to implement the behavior when I'm dragging one of the GoLink instances, that must not go inside the node boundary like at the picture bellow (the right GoLink is inside the node boundary):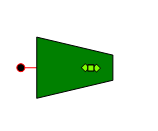 GoLink instances mustn't outcome from bottom or top of the node, they must outcome only from its sides (from left and right sides like at the first picture) (It's shown at the next picture)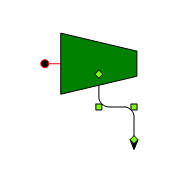 Also GoLink instances mustn't intersect the node, they should simply bypass it without the node intersection they come from.
I suppose I should override CalculateStroke method, but is there more easy way to achieve such behavior. Maybe it can be implemented with GoDiagram standart means, or maybe you have a piece of code which can help me! :blush:
Thanks in advance!
P.S.: GoDiagram version is 4.1.0.4