Hi,
I have been trying to change the look of Self looping which is used in our application. In our case, the self loop looks like a straight line when drawn
During the self loop draw, the link positions itself perfectly,

But after I release the mouse the link draws itself like this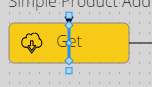 But we wanted to have the link to look same like the previous one even after I release the mouse.
Can you let me know how can we solve this problem.