My application utilizes icons within a node shape to serve as buttons for outside actions as well as indicators about the meaning of a particular node.
The placement of these icons into rectangular shapes is fairly reasonable using Go.Spot, i.e. 'TopRight', 'TopLeft', etc.
For example, here are icons I am using within rectangular shapes, or at least shapes with good 'Spots' that work:


However, once I get into non-rectangular shapes, spots only work on the rectangular portion, which forces me to place them into very arbitrary locations that don't looks right. For example, this shape: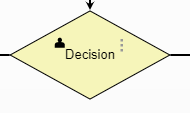 I would prefer to be able to place the icons in the corners of the diamond which would look much nicer.
Looking through the documentation, I haven't seen any easy solution to this problem but it certainly seems like it should be possible. Are there ways to modify what Spots mean within a shape? Or should I be using a method to position the icons that is unrelated to Spots?