Hello friends. I have successfully built a diagram with the correct edges and shapes, but all the nodes render together in a manner, like so:
###Current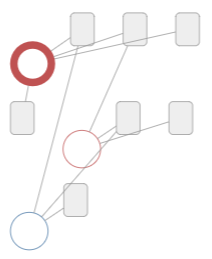 However I desire this type of layout.
###Desired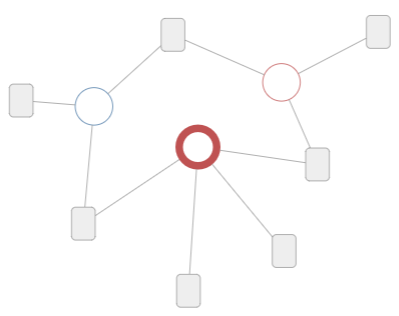 Key features are:
Red root node is always in the center. Eventually I will make other nodes in the center, but calling this one out for sake of example.

Other nodes space around the "root" node with as few overlapping edges as possible.
###Attempted Solutions
I've unsuccessfully tried using variations of ForceDirectedLayout to replicate this layout.
My problems with ForceDirectedLayout were:
Unable to move root node into the center. While I could move it manually by hooking on to initialLayoutCompleted as @walter suggested, the final layout would always look messy.

Unpredictable layouts – sometimes a lot of edges would overlap, sometimes it would look beautiful. Turning off the internal randomizer did not help.
TLDR;
Basically, I have the feeling that I am approaching this problem incorrectly, and am probably using the wrong type of layout? Perhaps there is a better built in layout to render a design like this? I feel like this is a common design, and am struggling to achieve it!
Does anyone have any suggestions or have you achieved a similar layout? Any direction or suggestions are greatly appreciated.