I have a node with a title textblock under the main shape. When I edit the title , I don't mind it wrapping words, but I dont want to cut words in half.
This is what is happening.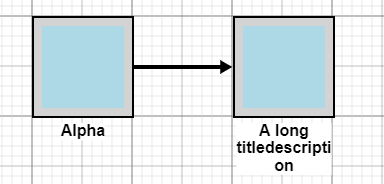 I can of course resize the whole node and that fixes it , but I would prefer the textBlock to stretch when a word doesn't fit. At the moment it appears to only be stretching vertically, but it needs to stertch horizontally as well to cater for long words. I've tried lots of options on the textBlock but I can't get it working.
Here is my code:
<!DOCTYPE html>
<html lang="en">
<head>

    <meta charset="utf-8"/>


    <script src="https://unpkg.com/gojs/release/go-debug.js"></script>
<script>

function init() {

  var $ = go.GraphObject.make;  // for conciseness in defining templates

  var diagram = $(go.Diagram, "myDiagramDiv"
                            , {
                                allowDrop: true
                              , allowDelete: true
                              , allowCopy: true
                              , "grid.visible": true
                              }
                          );


  var nodeTemplate =
    $(go.Node, "Spot",  // the whole node panel
      {
        selectionAdorned: true
        , resizable: true
        , resizeObjectName: "PORTSHAPE"
      }
      , $(go.Shape, "Rectangle",
        {
          name: "PORTSHAPE"
          , fill: "lightgray"
          , strokeWidth: 2
          , portId: ""
          , cursor: "crosshair"
          , fromLinkable: true, fromLinkableDuplicates: true
          , toLinkable: true, toLinkableDuplicates: true
          , fromSpot: go.Spot.AllSides
          , toSpot: go.Spot.AllSides
        }
      )
      , $(go.Panel, 
        {
            name: "CONTENTPANEL"
          , background: "lightblue"
          , stretch: go.GraphObject.Fill
          , margin: 10
        }
      )
      , $(go.TextBlock,
        {
          name: "TitleTextBlock"
          , alignment: new go.Spot(.5, 1, 0, 5)
          , alignmentFocus: go.Spot.Top
          , textAlign: "center"
          , font: "bold 16px sans-serif"
          , editable: true
          , text: "some node title"
          , background: "white"
        }
        , new go.Binding("text", "title")
      )
    );  // end Node


  let linkTemplate =
        $(go.Link
          , { 
              toShortLength: 6, toEndSegmentLength: 20
            , layerName: "Background"
            }
          , $(go.Shape,
            { strokeWidth: 4
            }

          )
          , $(go.Shape,  // arrowhead
            { toArrow: "Triangle", stroke: null, scale: 1.5 }
          )
        );

      diagram.nodeTemplate = nodeTemplate;
      diagram.linkTemplate = linkTemplate;

      var nodeDataArray = [
        { key: "Alpha", title: "Alpha"},
        { key: "Beta", title: "A long titledescription" }
      ];


      var linkDataArray = [
        { from: "Alpha"     , to: "Beta"}
      ];

      diagram.model = new go.GraphLinksModel( nodeDataArray, linkDataArray );




    }

    window.addEventListener('DOMContentLoaded', init);

</script>

</head>

<body>
  <div id="myDiagramDiv" style="border: solid 1px blue; width:1000px; height:1000px"></div>
</body>

</html>