The TreeExpanderButton shown in the screenshot is positioned lower than the links of the node.

Thanks.
Upon checking the received sample file, I noticed that the link of the node is displayed above the TreeExpanderButton of the node. Could you please create a simple example sample file where the TreeExpanderButton is displayed above the link of the node?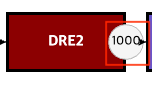 Make the change to the link template that I suggested above.